Quick question - did ALL 1971 Ram-Air cars get the two-tone hood scheme? I've been looking through photos of 1971 non-Mach 1 429 cars and almost all seem to have it. Question because we peeled back the paint on our 429 sportsroof's hood and did not find argent under the layers of paint. There is a possibility that the hood is not the original, but it certainly looks like it was a factory Grabber Blue Ram-Air hood, though there are no date code stampings to confirm what it originally came on. The hood hinges on the car are likely not the original, as they are dated September, 1970, while the car was built on August 14, 1970 and was released by Ford on August 17, 1970. The hinges and Mach 1 grille were probably lifted from the assembly line by the Ford worker who bought the car and installed (long story). The C-Code 429 cars all got the Ram Air hood, but did not have the argent or black treatment, so a Ram Air engine, Mach 1 package orTu-Tone option are presumably the 3 options that would get the black/argent hoods.
Our hood which is Grabber Blue (matches car but doesn't have argent), for reference:
The following 429 Ram Air sportsroofs all have the hood effect:
https://bangshift.com/bangshift1320/the-plain-package-this-1971-ford-mustang-429-scj-was-optioned-to-hurt-feelings/
https://www.charliesclassiccars.com/vehicles/93/1971-ford-mustang-scj-drag-pack-car
http://tenwheel.com/view/32768-1971_mustang_sportsroof__429_scj__drag___pack__1_of_1__rarest.html
https://www.mecum.com/lots/FL0117-269804/1971-ford-mustang-fastback/
https://www.bonhams.com/auctions/19680/lot/338/
https://www.barrett-jackson.com/Events/Event/Details/1971-FORD-MUSTANG-429-SCJ-FASTBACK-19267
http://429mustangcougarinfo.50megs.com/gallery_8.htm
http://429mustangcougarinfo.50megs.com/gallery_2.htm
This car is the lone standout - 429 sportsroof without the hood treatment. Looks like a pretty correct car?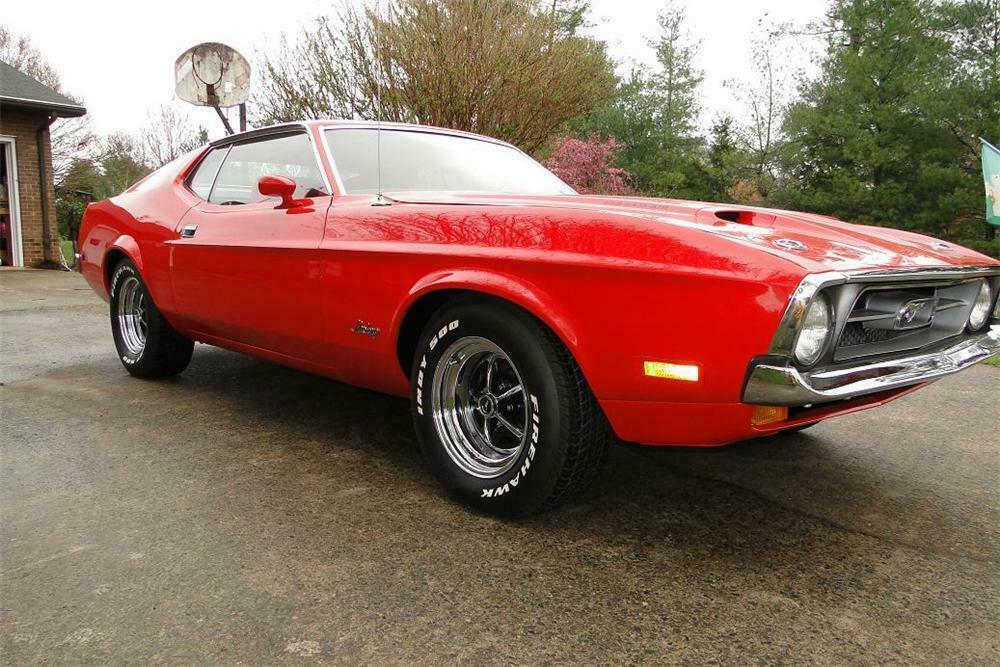 https://www.barrett-jackson.com/Events/Event/Details/1971-FORD-MUSTANG-429-SCJ-FASTBACK-102296
Last edited by a moderator: